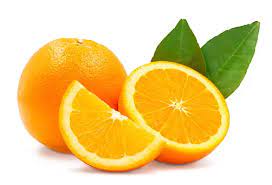 6 Benefits of Using a Vitamin C Serum
6 Benefits of Using a Vitamin C Serum 
By: Esthetician Noelle Janda
Among the vast array of products available in the skin-care world, one ingredient has proven itself a true superstar: Vitamin C. Keep reading to learn why skincare enthusiasts, dermatologists, and your estheticians here at Quintana's love using Vitamin C and all of its amazing benefits!
Antioxidant Properties: Vitamin C is a potent antioxidant that helps protect the skin from free radical damage. Free radicals are unstable molecules generated by UV radiation, pollution, and stress, which can lead to premature aging, wrinkles, and skin damage. Vitamin C neutralizes these free radicals which reduces oxidative stress and promotes a healthier complexion.
Collagen Production: Vitamin C plays a crucial role in collagen production. Collagen is a protein which maintains skin's firmness, elasticity, and overall structure. A high quality Vitamin C serum can visibly improve skin texture, fine lines and wrinkles. 
Brightening Skin Tone: Vitamin C has skin-brightening properties that can help fade age spots and hyperpigmentation. It inhibits the over-production of melanin, resulting in a more even and radiant skin tone.
Sun Damage Protection: Although Vitamin C should not replace traditional sunscreen, it can provide additional protection. When used in combination with sunscreen, vitamin C minimizes sunburn, reduces photodamage, and neutralizes free radicals.
Wound Healing: The increase in collagen production also assists with wound healing. This can help speed up the skin's recovery process, reduce inflammation, and minimize the appearance of scars.
New Product Spotlight! Image Hydrating Vitamin C Anti-Aging Serum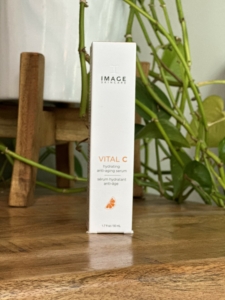 Our Esthetics team is excited to now offer an award-winning Vitamin C Serum that is loved by all skin types. This high-potency serum softens the appearance of wrinkles, supports skin elasticity and fights environmental damage. Hyaluronic acid helps to lock in hydration and supports the look of plump, bouncy skin. It contains multiple forms of vitamin C to help brighten the skin and fight visible signs of dullness and fatigue. The Image Hydrating Vitamin C Anti-Aging Serum is available for purchase in our spa. 
Key Ingredients
Multi-vitamin C complex: A blend of tetrahexyldecyl ascorbate, ascorbic acid, magnesium ascorbyl phosphate and ascorbyl palmitate that brightens, tightens and smoothes the skin
Hyaluronic acid: A moisture-magnet ingredient that helps to lock vital hydration into the skin, leaving it plump- and youthful-looking
Antioxidant blend: A blend of nourishing antioxidants like green tea help to defend the skin against daily threats from environmental damage
Stop in to the Spa to purchase your Vital C
https://qbds.net/wp-content/uploads/2023/07/oranges.jpg
185
272
Angela Voorhis
https://qbds.net/wp-content/uploads/2021/10/black-logo-2019-300x128.jpg
Angela Voorhis
2023-07-13 23:33:25
2023-07-13 23:38:31
6 Benefits of Using a Vitamin C Serum